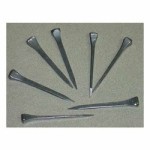 We have an extensive range of Horse Shoe and Bullock Nails. We offer our range in different sizes and other custom specifications as required by the clients. These Shoe Nails are known for their reliable hardness.
Packaging details :-
One carton of 25 kgs consisting of 10 packets of 2.5 kgs each.